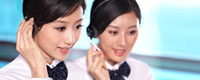 Name: Jolina Zeng
Tel: 86-21-58220659
Fax: 86-21-58220659
Mobile: +86-15221589661
E-mail: jolina@wellsionfiber.com
Add: 10th Floor Building 27 No.200 East Huanzhen road Pudong,201316,Shanghai China P.R
Skype: jolinazxf
MSN: jolina1986@live.cn
QQ: 805524153 Jolina





Product name : WS-902 Optical Fiber Inline Splicing Closure

Item : 20201020161529
Details:
WS-90
0s series
Fiber Optic Splicing Closure is used for distribution and connection of cable and fiber optic communication devices. It leads out the fiber signal from drop cable to pigtails and splicing in box. It can be used for protective connection of cable and layout pigtails, fiber optic terminations of optic access network. It is suitable for outdoor, corridor, weak current silo or collection points of villas for the spl
i
cing, storage and distribution of local cable or drop cable. Made by excellent engineering plastic offers strength and resistance to chemical and U.V attack.Widely used in FTTH access network,telecommunication networks,CATV networks,data
communications network,local area networks,indoor and outdoor application.
Features
v Reliable gasket sealing, good waterproof performance
v Easy installation with no special tool required
v Re-enterable with no re-entry kit needed
v High compressive strength
v 24 ports for each splicing fiber in a tray, convenient for storing the spliced heating shrinkable tube.
v 1*16, 1*8, 1*4, 1*2 PLC blockless splitter or 1*8 module box splitter can be installed into the closure
v Special gasket design for the inlet and out let of drop cable
Application
●Suitable for ribbon and non-ribbon fibers
●Aerial , hanging on the cable
●pole mounting and wall mounting available
●Direct burial or placed in the duct
Specifications
Model

Max Inlet/Outlet ports

Max Diameter for the ports

Max QTY of Splitter

Max Capacity

Max splcing tray

Dimension

(L*W*H) mm

Material

Operation Temperature

WS-901

3inlet &3outlet

16mm

0

72 fibers

3trays, 24fiber/tray (simplex)

300*184*109

PP or ABS

-25~+75℃

WS-902

3inlet &3outlet

16mm & 3.0*2.0mm flat drop cable

1pcs of 1*16 blockless splitter

36 fibers

2trays, 1*24fiber/tray (simplex)+1 pcs of splitter tray

300*184*109

PP or ABS

-25~+75℃

WS-903

3inlet &3outlet

16mm & 3.5mm round drop cable

1 pcs of 1*8 module box splitter

36 fibers

2trays, 1*24fiber/tray (simplex)+1 pcs of splitter tray

300*184*109

PP or ABS

-25~+75℃
Standard accessories:
Cable tie, heat shrinkable tube, soft tube, Electrical tape, hanging hook
Optional accessories:
Blockless splitter or module box splitter, addpters, cable clamp metal ring, grounding accessories, pole mounting accessories, etc