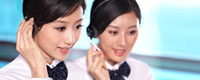 Name: Jolina Zeng
Tel: 86-21-58220659
Fax: 86-21-58220659
Mobile: +86-15221589661
E-mail: jolina@wellsionfiber.com
Add: 10th Floor Building 27 No.200 East Huanzhen road Pudong,201316,Shanghai China P.R
Skype: jolinazxf
MSN: jolina1986@live.cn
QQ: 805524153 Jolina





Product name : 6G SFP+ Transceiver

Item : 2016726161630
Details:
Descriptions:
Wellsion series of transceiver modules are the perfect solution for high-speed communication networks.
Optical transceiver modules provide reliability, robust and high performance to Telecom, Datacom, and other data communication applications.
Wellsion's fiber transceiver module comply with the 2x5 standard package defined by the Small Form Factor Multi-Sourcing Agreement (MSA). They also comply with SONET OC-24 standards2. The transceivers are RoHS compliant and lead-free per Directive 2002/95/EC5.
The Transceiver family provides a uniform form factor for a wide variety of standard connections to transmission media. The converters can be inserted or removed from a host chassis without removing power from the host system.

Product Features
. Up to 6 Gb/s Data Links
. Compliant with SFP+ MSA
. 1310 nm FP LD Transmitter, 1550 nm Receiver
. 1550 nm FP LD or DFB Transmitter, 1310 nm Receiver
. 1270 nm DFB LD Transmitter, 1330 nm Receiver
. 1330 nm DFB LD Transmitter, 1270 nm Receiver
. AC/AC Coupling according to MSA
. Digital diagnostic SFF-8472 compliant
. Distance up to 0.5 km 2km 20km at SM Fiber
. Single +3.3 V Power Supply
. Operating case temperature range 0
Application
. Custom high-speed data pipes
Products Cover:
1. Dula fiber, BIDI, CWDM serials
2. Single-mode fiber, Multi-mode fiber
Order Information: